«
Still Remember the Olympic Winter Games 2018
Have you enjoyed the recent Olympic Winter Games? This popular sporting event unites many countries and gives us so many emotions! This year PyeongChang hosted the 23d edition of Olympic Winter Games. This event was held from the 9th of February to the 25th of February, but it will stay in our memory forever. If you love Winter Games too much and you're sad that they are over this year, then cheer up, because you can play Olympic-themed slots, which will remind you of all the thrill and excitement of this international sport event. We'll tell you about three most realistic, most exciting and most colorful slots dedicated to the Winter Games. Let's start!
Ski Jump Slot
As it's clear from the game's title, it's dedicated to ski jump, one of the most thrilling sport activities. It's amazing to watch the ski jumpers who stand on their two skis and try to pretend that they are birds. They have to be absolutely brave and a little crazy!
The game was created by Genesis Gaming company. This product has three rows, five reels and ten pay-lines. What's more, it has numerous special features and luxurious bonuses. The game is based on Quickfire platform, provided by Microgaming company. Its chilly atmosphere will make you believe as if you are really on the top of a crazy ski run. The reels are transparent, so they don't prevent you from enjoying the beautiful background of the game. It really looks marvelous!
Before starting the game you'll have to select your nationality and national flag. The game's symbols are related to its Winter Sports theme. They look like skis and ski boots, sports trophies and bunches of flowers, helmets and medals. The Wild symbol looks like a Badge, and the Scatter symbol is a Cowbell here. The game offers an incredible quantity of special features, including Free Spins, multipliers and a very special feature of Ski Jump, which shows you a talented ski jumper, who makes several breathtaking jumps and wins money for you as well.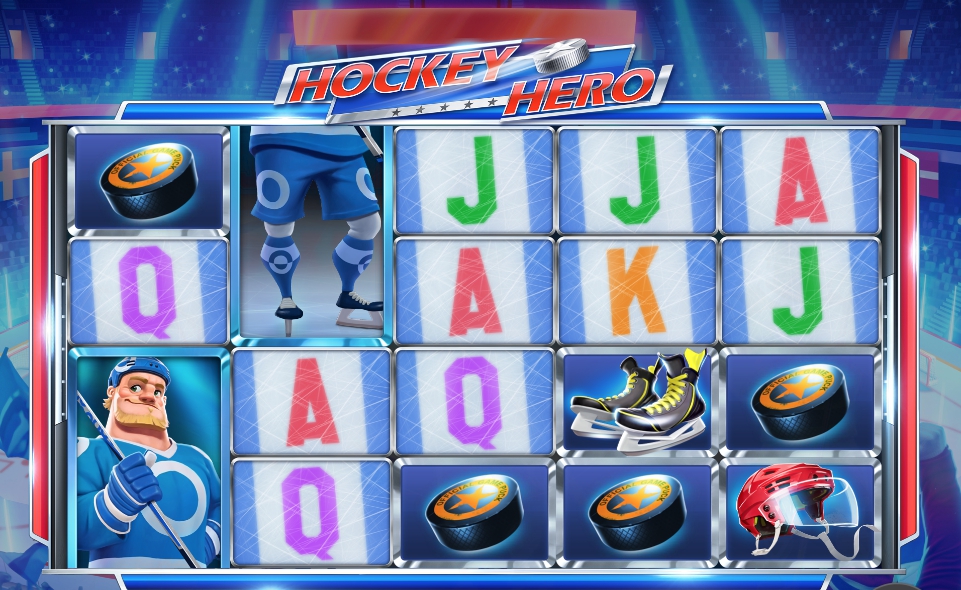 Hockey Hero Slot
The next game we're going to tell you about is focused on hockey. Some sports fans consider it the most popular ice sport, the center of the Olympic Winter games.
The backdrop of the game shows us an ice hockey arena. The hockey atmosphere of the game is enhanced by the perfectly fitting music and visual effects.
Before each game the hockey pucks are usually frozen, which means that they don't bounce while you play.
Push Gaming company created this game for you, the real hockey fans. You can find it in a great number of various online casinos. The game consists of five reels and forty pay-lines.
All the games' symbols are dedicated to hockey and express our deep love to this ice sports. The goal is the game's Scatter symbol and the gold cup is its Wild. When you see three Scatters on your reels (or more of them), you'll get a reward of several Free Spins.
The slot shows us three hockey players. One of them is dressed in a blue jersey, the second one has a red jersey on, and the third player's jersey is green. When you first reel is completely stacked with the player in any jersey, it means that you've triggered a special feature of Hold and Re-spin. When a special feature of Free Spins is triggered, you'll see some multiplier of 2x, 3x or 4x, and this multiplier will make your chances to win larger!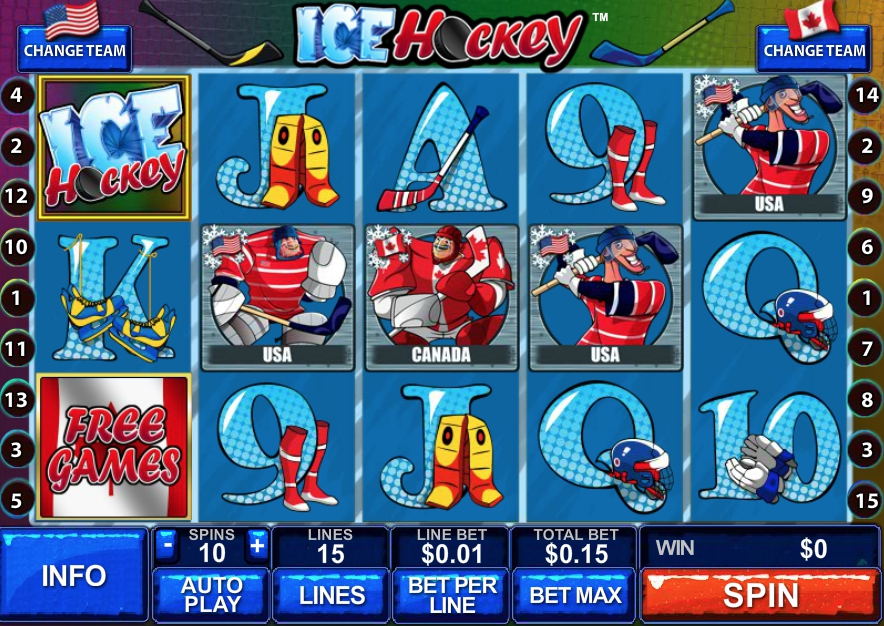 Ice Hockey Slot
Another game dedicated to hockey. Games providers seem to love this game as much as we, gamblers, do. This time the game, we'll be discussing here, was released by Playtech. As soon as you start playing this amazing slot game, you'll get the feeling of the real and impressive sports show. But before starting spinning your icy reels, don't forget to choose the teams, which will fight against each other.
The game's special symbols enhance the hockey atmosphere. They look like the Net, the Puck, the game's logo and the symbol of Free Games. When you see two symbols of Free Games with the same flag on your first and fifth reels, you'll get a reward of 12 Free Spins. While you're playing them, all the players on your reels will belong to one and the same team, and this means that your chances to win will be increased.
Conclusion
Well, that's the three fantastic slots, dedicated to Winter Sports. We'd like to know your opinion about the games and the Winter Olympics. Do you like this event? What is your favorite sports activity? Maybe you like some other sports-themed slots, which we haven't mentioned. So don't hesitate and help us to know more sports-themed slots!