«
Best Westerns among Slot Games
If we are going to talk about slots on new websites, why not will we touch upon the Western-based theme? The back seat was a place where this type of games waited its turn while gamblers were busy with Ancient Greeks or Egyptian Pyramids. Shame to us but it was the undeserved destiny of this particular theme. It is so breathtaking experience to get back to the times when American West was the place where you could never get bored. The Cowboys were the most adventurous people of the time. You will see yourself in them wearing a Stetson hat, high leather boots and spurring a good slim horse. Would you mind to meet some natives in combat coloring? Or just come across some bandits looking for a chance to make a fortune? If you are with us, you will find out that some developers have created stunning slots that feature the theme. Just browse the pages and you will grab some of best Western games.
This Wild, Wild West
Maybe Rival Gaming does not have slot games animating their plots with the greatest graphical features. Nevertheless, it does not mean that they are going to fail when entertaining a demanding gambler. Western Wildness gives players chances to risk rotating five reels and a layout of three rows. Twenty various pay-lines cannot be customized and this is not too bad. You will enjoy the icons showing tough cowboy guys, high boots, leather horse-bags, and beyond. Besides, a shotgun presents a so-called scatter symbol you will see a symbol of wild, which is the most noticeable on the game wheel. You are a lucky person to deal with the wild which can substitute the whole set of reels' icons and it will bring you a double sum. Moreover, it can spread across the whole reel. In addition, a shotgun presents a so-called scatter symbol. When you see three of them, it means that you will have ten free spins in a row, one more symbol will give you an opportunity to try twenty free spins. Have you won five ones? Wow! Now you are having a hundred of spins! Some icons, if there are three of them or more mean that the round is a bonus game. Will you hit a bottle if you shoot ten of them using six bullets? In addition, the jackpot… If there are five of them, you have a chance to grab a maximum bonus. Fife hundred coins are a good prize, aren't they?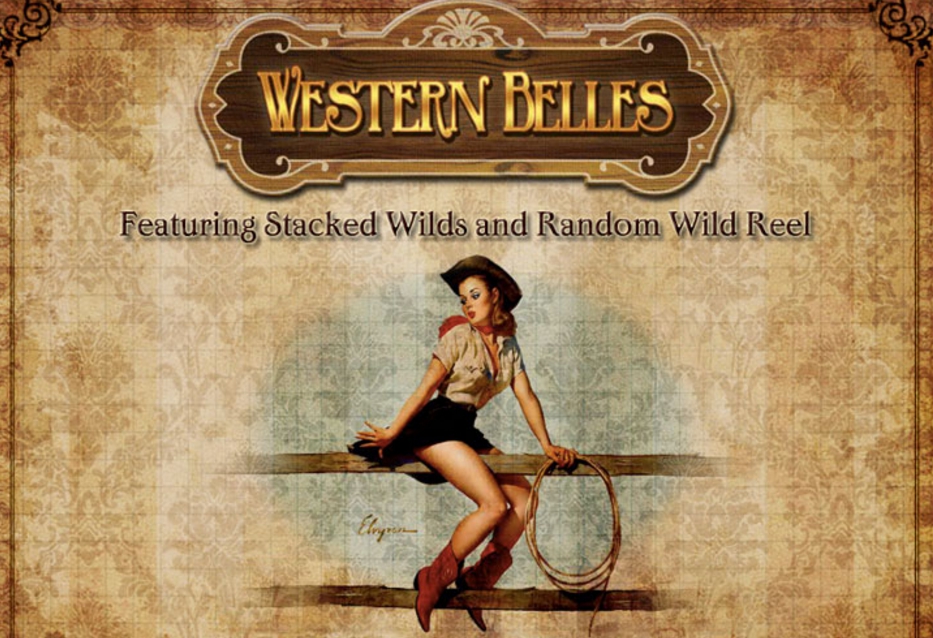 What are Western Belles?
Cow guys are not the only group of main characters, and Western Belles is a feature, which proves it. Five reels as it happens often and a soundtrack which is worth enjoying. Cow girls appear and they are so pretty hosts of the reels! Moreover, they are eager to give you a chance to come across some additional bonuses. Will you manage without boots? Never! You will see them and Stetson hats as well. Wild icon is here too but in Western Belles it is very special. Of course, it is an of a belle (the prettiest girl) clad in red clothes and the gambler can substitute any other game symbol you are going to deal with. You cannot do it only with the icon bringing bonuses. Being a Wild it comes to the game as a real stack. There are some more wilds such as a beautiful lady clad in white clothes and a printed lipstick kiss. If you try your luck with a stack you will be able to achieve a feature of the Wild Reel. Besides, the bonus icon Each of these stack wilds provide the Wild Reel Feature as well, and they can double your prize, though they appear only on the second, third, and fourth reel too. Above all, it gives you five free spins. Three spins can help you make a fortune.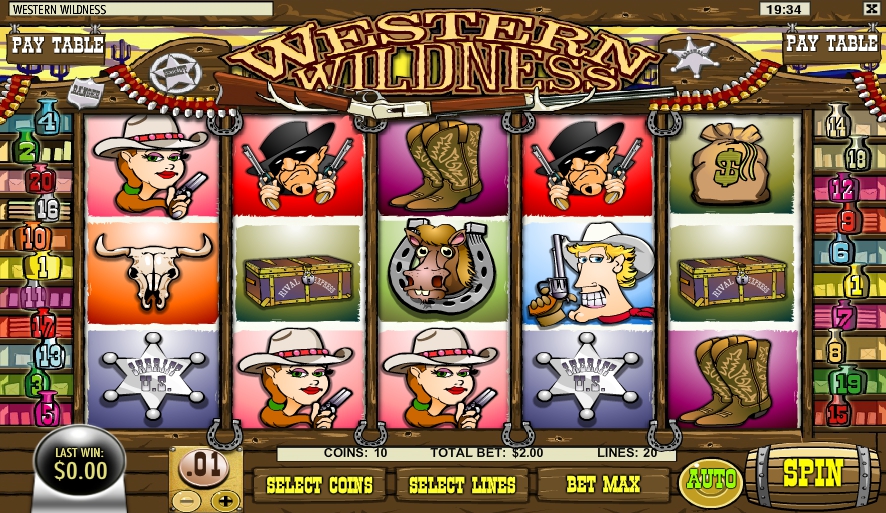 The Wildest West
NextGen Gaming definitely spare no expenses with that. It brings gamblers some brilliant graphic and features. In addition, it provides a player with a gorgeous soundtrack in the course of the gameplay. You will use 5 reels and 3 layouts in a row and experience playing with different icons. They start with high boots of a cowboy, a bag fool of loot, and a card dealer. An image of a saloon, a horse playing cards, and a wench serving clients. Upon its five reels and three-row layout, you'll find a mix of different icons. These begin with the symbol of some cowboy boots, a card dealer and a bag of loot. Joining them is the icon of the saloon, a card-playing horse, and a serving wench. 2 euros 50 is a maximum bet to place in this game. Super Bet is an ultimate addition to all other features. A great addition to this one is its Super Bet feature. The player adjusts this wager to the control point, which is close to the reels. You can win some wilds and extra lines. Besides, wild is the cowboy's symbol of this gameplay. As usual, it can substitute the whole set of icons on the reels excluding the scatter named chip stack. If the combination of win happens and a cowboy appears, it means that you get freespins and there are 5 of them. While playing free spins you get a chance to come across the scatter icon.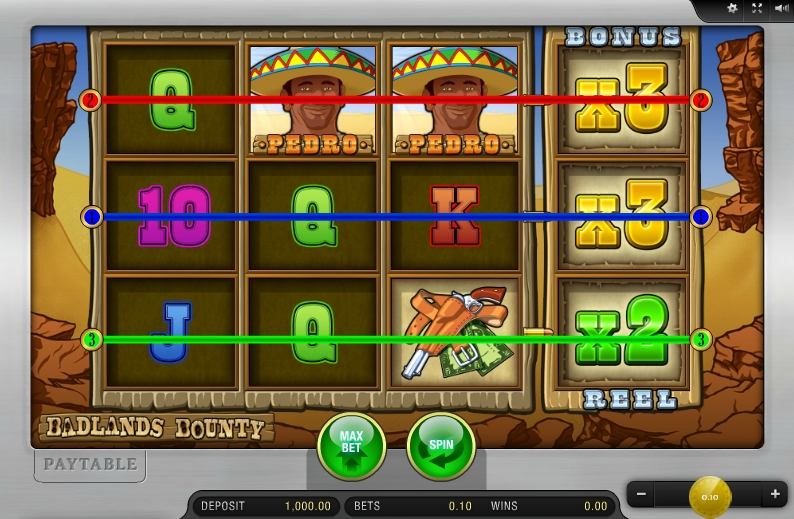 Badlands Bounty slot
An experienced gambler knows that the Badlands Bounty slot taken from Merkur is a bit older in comparison to some other games. In this slot, the gambler experiences three rows and four reels including three lines of pay. Crossing every row from the left to the right is the main suggestion. A, K, Q, and J icons placed on these reels are standard and you have ten various options to start with. Where there are cowboys, of course, there are images of bullets pistols. In addition, there appear 3 icons of characters. Meanwhile, there are three character icons as well. Sean character is the image providing the pay out of the upper standard and it can get to an enormous level of 500 coins. Moreover, you can come across multiplier icons and they are able to multiply your winning score up to five times as many. At last, you can get an image of the badge of a sheriff and it will provide your game with nice bonuses. Multipliers and icons of bonuses appear only in the time of bonus reels and it is the fourth in the row. Let us add that Merkur makes sure to introduce a round for a gambler in that one. Do not forget that cowboys were great card players and try to win your fortune using a card game option.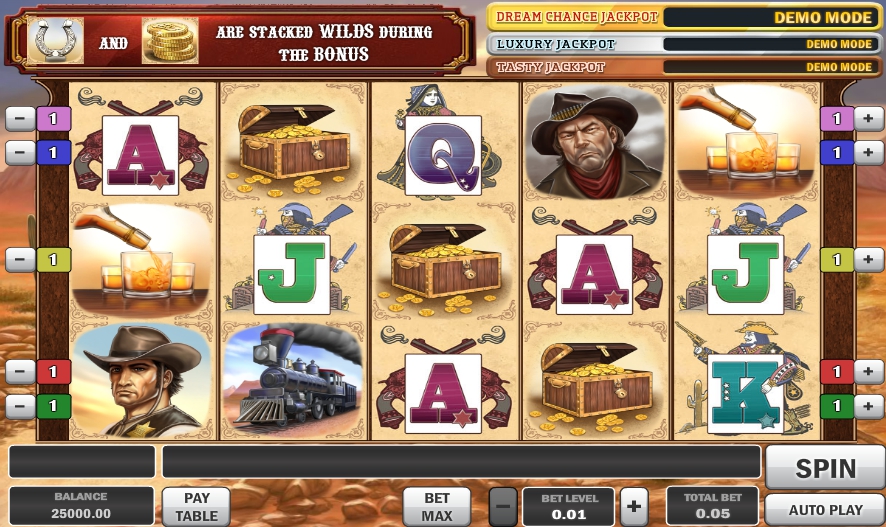 Cowboy Treasure Slot
When you are eager to get more gusto, Cowboy Treasure from the collection of Play'n Go is going to meet your wishes. It combines absolutely marvelous graphics with soundly chosen music line for its soundtrack. A, Q, K, J are the starting icons on the reels and the six additional ones follow them. Just prepare that you will get some whiskey poured in the glass, horse of black color, and a chest with treasure thing locked in it. A train with runaways and two cowboys with different appearance are other three images. No doubt, wild is one of the most attractive features of this slot, as it is true for other games. The wild is a sheriff badge. It is changeable for all other icons taken together. Only a bonus symbol does not conform to this rule. The symbol of pistol plays a role of a bonus image. Get five symbols at any place and you will possess 14 opportunities for making freespins. Pay attention to a stack and you will come across coin and horseshoe symbols. A golden ring appears to be a scatter icon. Besides, you get a chance to grab a bronze or a silver jackpot. The luckiest gamblers can get a golden one.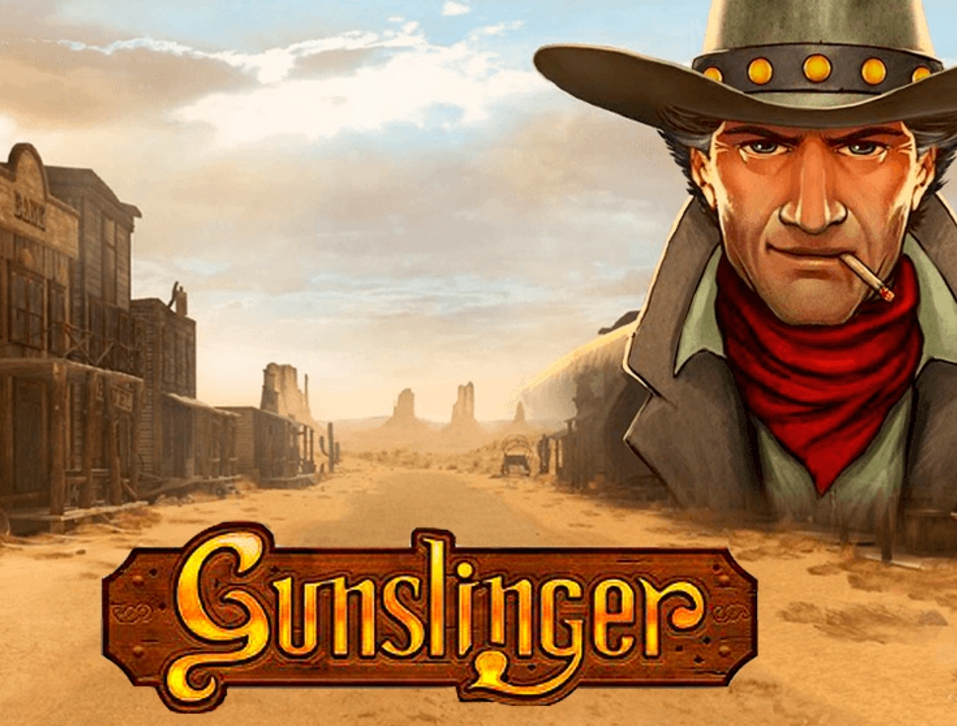 Gunslinger Slot
The Play'n Go developer continue this list with Gunslinger game, which offers a wonderful Western experience. This one provides gamers with 3 rows and 5 reels. A well as other games, it incorporates splendid graphics and composes ideal gameplay. Twenty-five pay lines are good for a gambler to play this slot and 31 euro 25 is a maximum bet for a round. Playing cards from the upper row Ace and King, Queen, and Jack, along with 10 are icons too. In the set of symbols, there is a bag full of golden nuggets, cowboy pistols, and a wench serving customers. A cowboy is a main character that is why the wild symbol is he. You can mix them with all other and you can get a winning combination. A mysterious bucking horse represents a scatter symbol you'll also see the wild icon in this game is the cowboy symbol. You can raise your bet up to two hundred and many players experienced that. The Bounty Hunt micro game can be obtained after your spinning 3 posters of Wanted. The icon with a bottle of beer (three of them in a row) triggers a round of freespins.