«
A New Game from Betsoft - GIOVANNI'S GEMS
A hidden world of amazing gems is waiting for you in a new Betsoft's masterpiece. It's a newest addition to the provider's golden collection of Slots3™. The main character here is Giovanni, a charismatic gem hunter. He is exploring a magnificent cave, full of wonderful gems. The cave is located in the mystical depth of Valtara forest, which had been rumored to hide amazing treasures for many and many years.
The game is a 7x7 Video slot with cascading reels and cluster wins. Here your 5 contiguous matching gems tend to explode in a fantastic sparkle of different colors, which gives way for new gems, falling from above. It means that the game offers you a chance to enjoy wonderful chain wins.
GIOVANNI'S GEMS game has a captivating soundtrack, which loudly celebrates your big wins. That's the reason why you feel gratification and happiness when your winning gems explode.
The game has a great number of various gems, and diamonds are the most popular one among them. You get diamonds, when the pressure of the game turns the usual coal into them.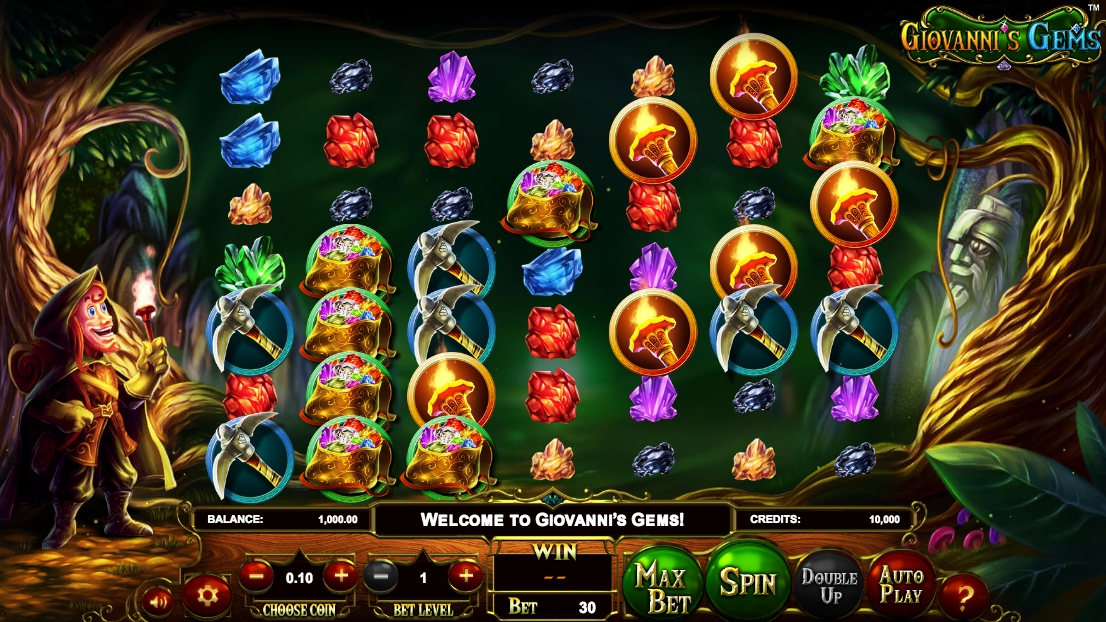 What's more, the game has Giovanni's own symbol. You'll see them when 3 pay appear on the reels. 5 pay or more unlock the special feature of Free Spins. This feature turns on the great pressure, which every symbol of coal already turns into the mystical diamond.
GIOVANNI'S GEMS game offers you incredible animations, which are possible thanks to Shift™, the own platform of Betsoft. The platform provides incredible availability and great operation of small file sizes.
Dan Cooper, a representative of Betsoft, says that GIOVANNI'S GEMS offers a unique arrangement of gems and fun. The expended grid of the game offers a fantastic chance for fantastic cluster wins.
Gems are hugely popular in many casino games and slots. The creators of GIOVANNI'S GEMS chose the uncut, raw shapes of gems. That's the main difference between this game and it's competitors, created by other providers. That's the reason why the game is unique.
GIOVANNI'S GEMS game is expected to start in the end of August, 2017.