«
Four Divine Beasts Slot
This incredibly beautiful slot with 243 pay-lines and five reels was created by Habanero company. If you wonder why there are four beasts and why they are divine, we'd like to tell you that the main source of inspiration of the game is a Chinese folk story about four divine beasts, who guard the precious treasure. As soon as you start the game, you'll see Vermillion Bird, Black Tortoise, White Tiger and Azure Dragon. That's the four divine beasts, who will accompany you in your exciting adventure through the game. If you like Chinese legends and beautiful slots, you'll surely be greatly admired with Four Divine Beasts. So, don't waste any time and meet them either right here in free mode or at any online casino, powered by Habanero, for the real money mode.
But before starting your adventure in the search of treasures, don't forget to set all the necessary adjustments. Let's start with your betting range. You can change it by clicking the "Bet Level" button and setting the convenient number of your coins for each line. Use the "Coin" button for adjusting the size of your coins. Their smallest amount is 0.01 and the highest one is 20. When you've done with all your adjustments, push "Play" button to make your reels move. If you are too lazy or busy to push this button a thousand times, choose the "Autoplay" button and your reels will move themselves as many times as you made them. If you are a high-roller, the "Bet Max" button is for you, because it sets the highest bet, allowed by the game.
Now let's focus on the game's special symbols. Wild symbol can only be seen within the base game. It can substitute for all the game's symbols but for the Scatter.
Yin-Yang symbol is Scatter. It only appears in the base game too. You can see this symbol on all of your reels but for the first one. All Scatter wins get multiplied by your total bet. When you see three Scatters (or more of them) on your reels, you'll get seven spins.
The Four Divine Beasts are very special symbols. Azure Dragon can cover the first reel entirely. And then Bonsai Tree will also appear on your reels and when it makes any winning combo, it will expand and cover all the possible positions on your reels. What's more, Bonsai Tree can also act as a Wild symbol of the game. Vermillion Bird covers the first reel entirely too. The Flame appears together with this Divine beast and it is also one of the game's symbols. It can act as a Wild symbol sometimes.
White Tiger covers the first reel too. When you see three or more Scatters on your reels together with one of the four Divine Beasts, you'll get a reward of seven spins. What's more, another special symbol of Black Sphere will appear on your first spin, triggered by any divine beast. Then this sphere will move one position after each following spin. When this triggered feature is on, the Black Sphere is another Wild symbol.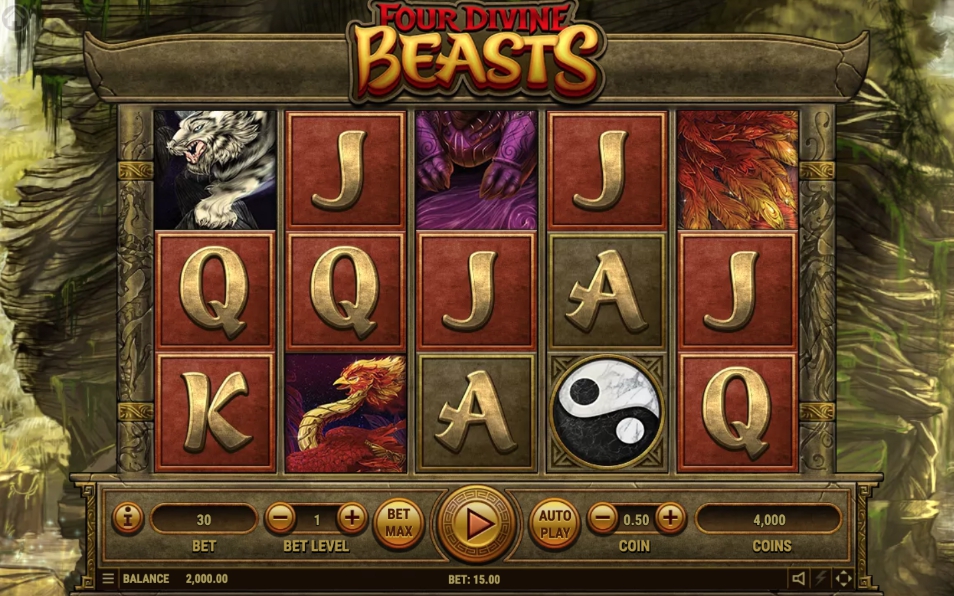 Black Tortoise has something to give you too. It can cover the first reel entirely and then if you see three Scatters (or more of them), you'll get seven spins just the same way as with the previous Divine Beasts. The difference is Water sphere, which appears on the second reel or on the third reel, then expands on several additional positions and acts like another Wild symbol.
But that's not all that those four Divine Beasts can do. What's more, they can start some bonus re-spins while you play the main game. As you can see, each of those Divine Beasts has their own special Wild symbol. So, while you're playing those re-spins, you'll also see those special Wilds.